Boost your efficiency - Wacom and Loupedeck
Together, Wacom and Loupedeck blend analog and digital. The analog touch of turning a dial with haptic feedback, or editing with the stroke of a pen gives you the ultimate level of precision over your work. The more you use our devices together, the more streamlined your workflow will become.
Wacom Intuos Pro, Wacom Cintiq Pro, and Wacom Cintiq go hand-in-hand with the Loupedeck CT and Loupedeck Live when it comes to optimization of workflows, boosting productivity and unleashing creativity.
Loupedeck CT and Live editable consoles
Unleash your creative power with Loupedeck. The Loupedeck consoles offer full flexibility and allow you to speed up your workflow the way it fits best to you. Take control of your favourite software, edit each button and dial as you need it and create, adjust, retouch or fine-tune with total freedom. Loupedeck CT and Loupedeck Live are perfect companions for Wacom's pen tablets and graphic displays. Combine both tools and gain even more control over your work. Adjust brush sizes easily with a Louepdeck dial and start instantly painting on the Wacom Cintiq Pro – just one of thousands application examples. These tools are designed to grow with you and your creative work. Over time, you can customize each feature and tool to suit your specific workflow, or leverage the brilliant presets both Wacom (Intuos Pro or Wacom Cintiq incl. ExpressKey Remote) and Loupedeck (CT or Live) come with out of the box.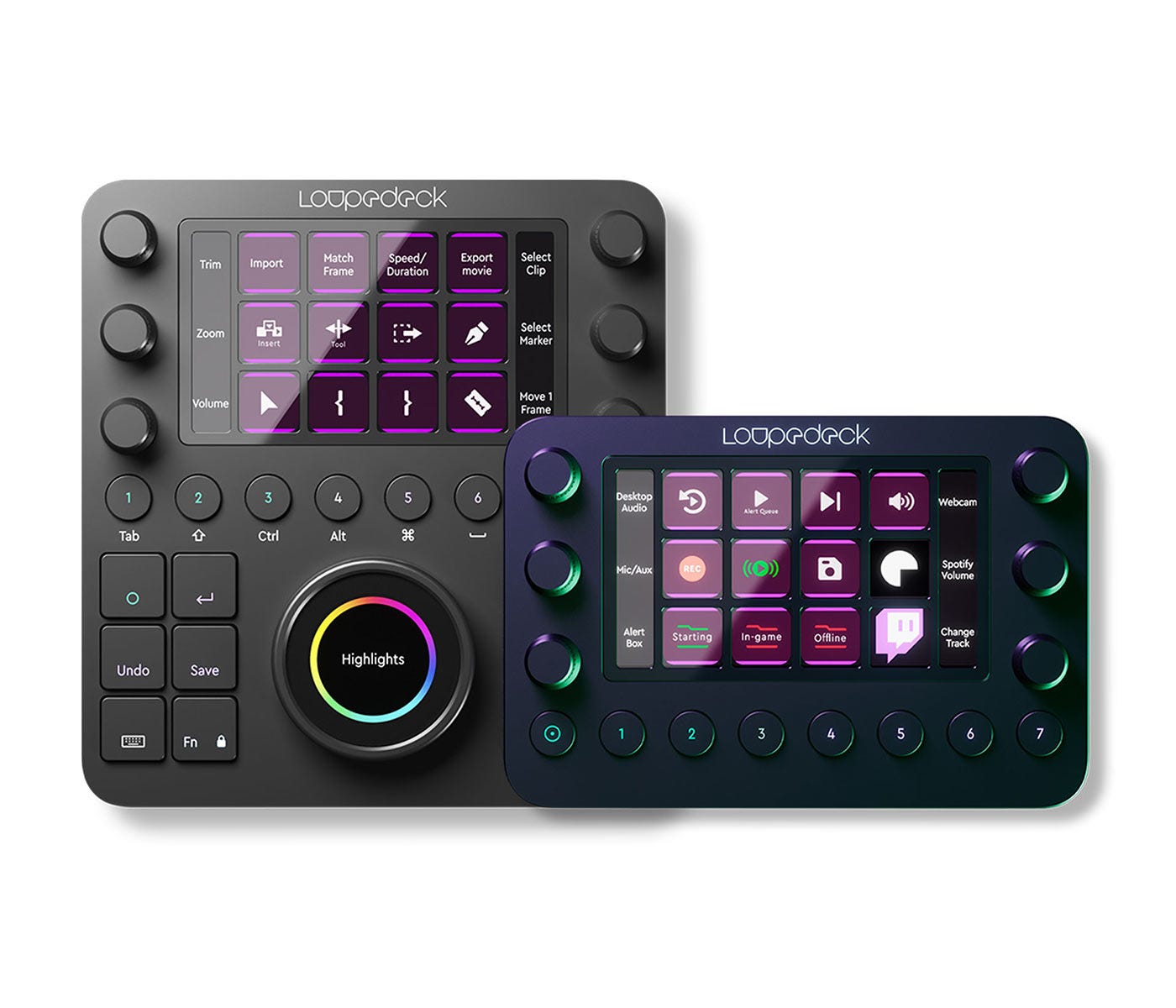 Eliminate limitations: Work two-handed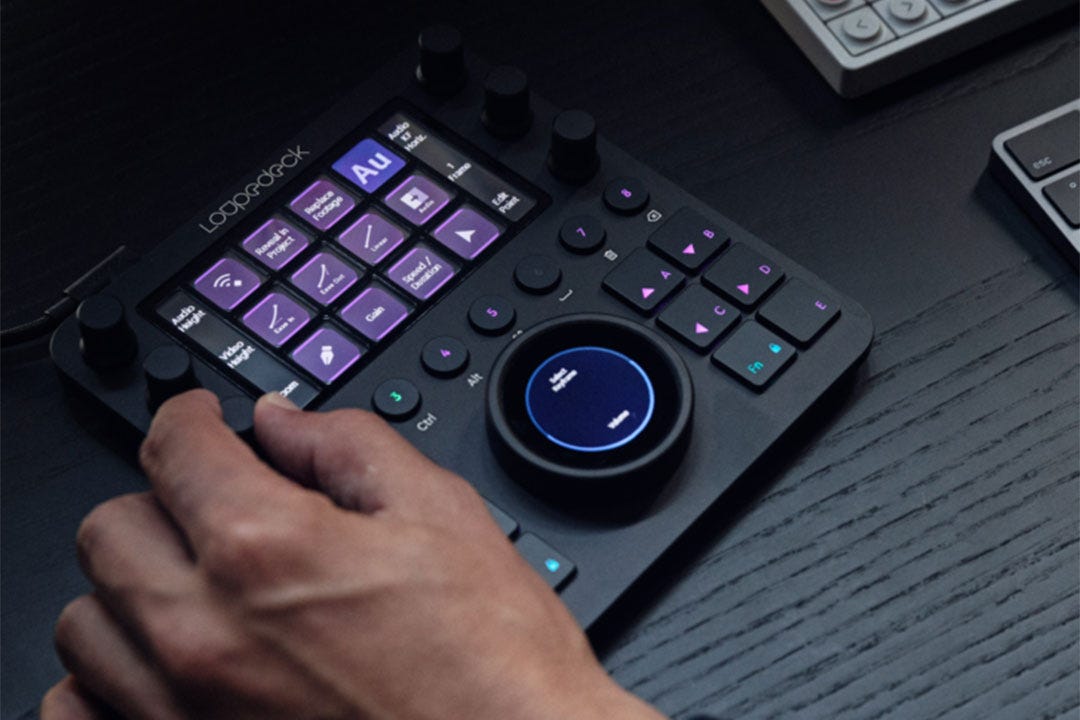 Compact, customizable editing consoles for creative professionals. Loupedeck's unique multi-button and haptic dial setup allows you to make precise adjustments with exceptional accuracy.
Experience native integrations to leading software such as Lightroom Classic, Photoshop, Premiere Pro, After Effects, Final Cut Pro, and more.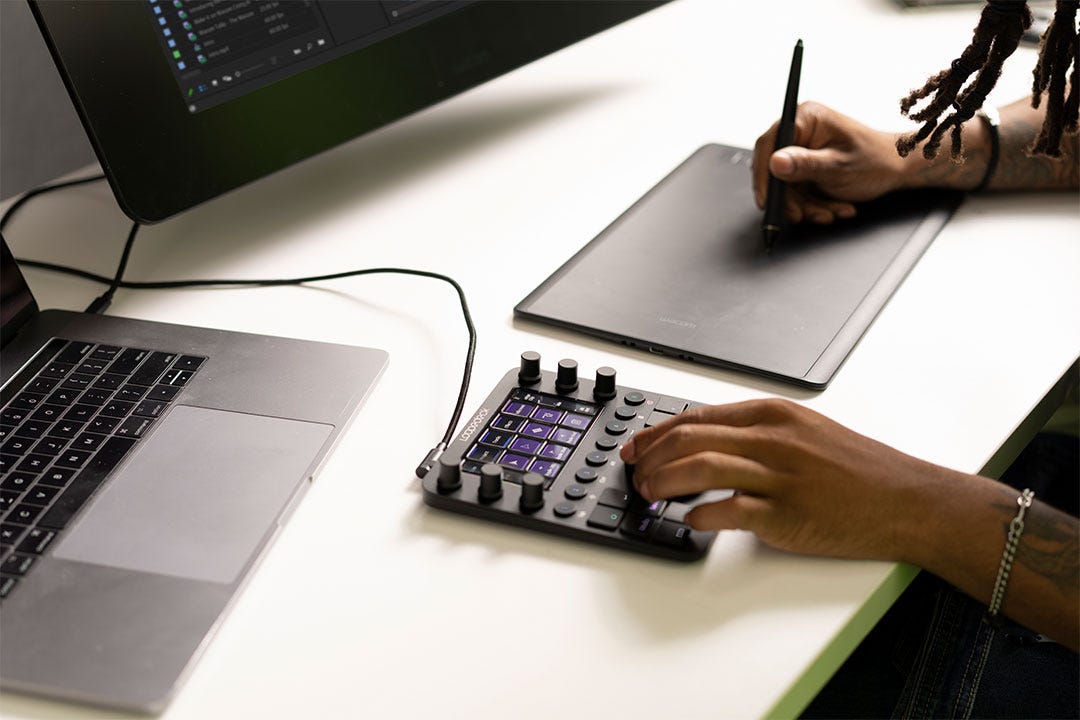 Loupedeck CT and Wacom Intuos Pro allow you to customize your controls for an experience that fits your unique workflow. Set your shortcuts to the effects you use the most – then adapt them as your work evolves.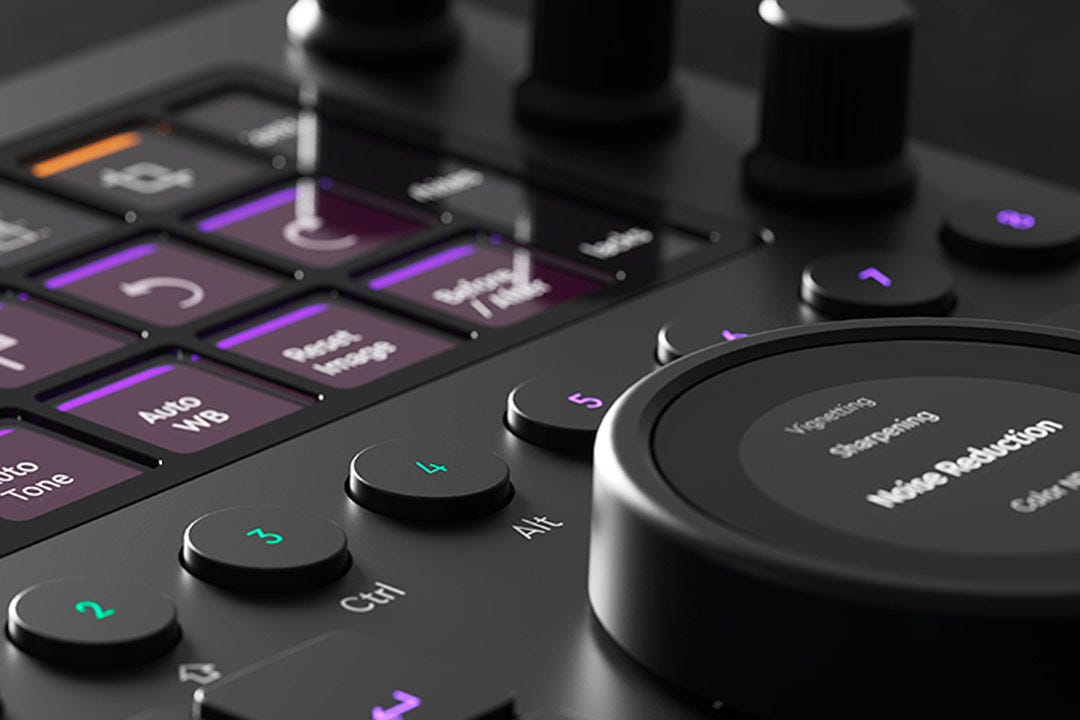 Loupedeck CT blends design and function, using high-quality aluminum and LED backlighting. You won't only edit like a professional, you'll look like one too.
Wacom Intuos Pro + Loupedeck CT or Live
The ultimate duo for efficient, two-handed photo and video editing is here. With the Loupedeck CT or Live and Wacom Intuos Pro, you can perform precise and incremental adjustments to your photo or video projects with ease. Customize each button and tool to fit best to your individual requirements. Navigate with the Loupedeck CT or Live between different software, adjust brightness and contrast and remain in full control of each stroke with the Wacom Pro Pen on the pen tablet.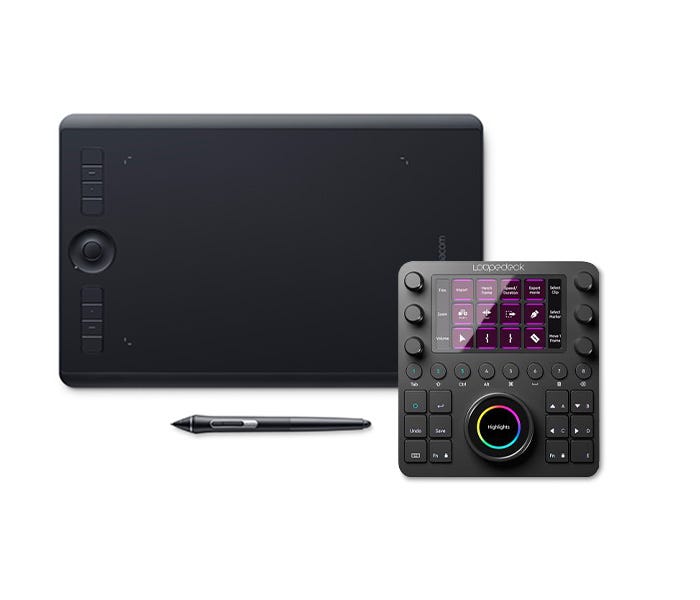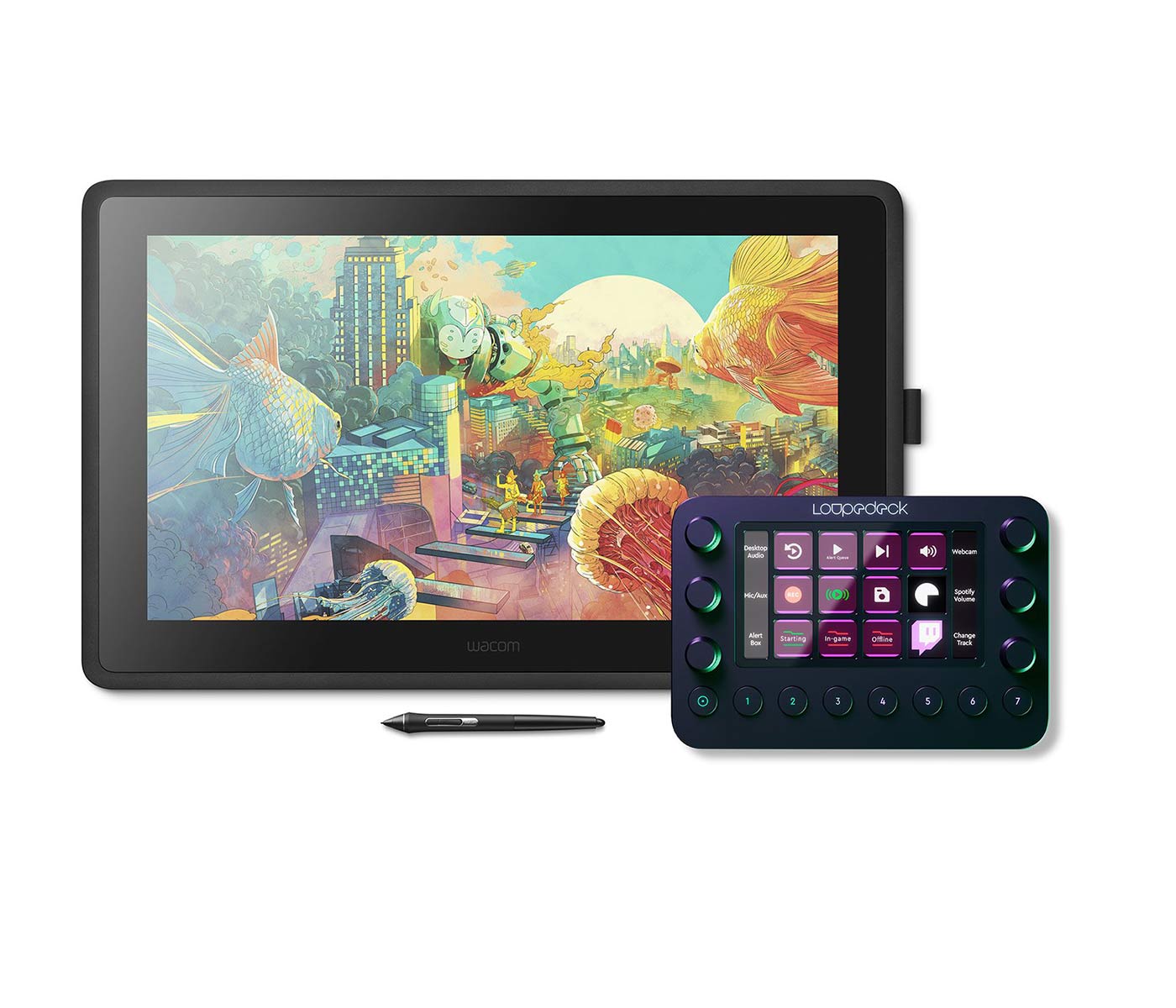 Wacom Cintiq + Loupedeck Live
Take advantage of the direct on screen experience of the Wacom Cintiq and team it up with the new flexibility offered by Loupedeck Live. Whether you are editing images or videos, searching for a plus for your streaming sessions, these bundles will boost your control and enable a more natural workflow. Create, edit, and stream on the fly and never miss a moment with complete control at your fingertips. Wacom Cintiq 16 and 22 are both available as bundles with Loupedeck Live.
Wacom Cintiq Pro + Loupedeck CT or Live
Go for the maximum: Biggest screen size, best performance, widest range of editable features, highest control and outstanding workflow. Wacom Cintiq Pro and Loupedeck CT or Live is your choice, if you look for the highest efficiency and most natural workflow. Work with both hands on your artwork or video. Don't waste time switching between tools and software, just create the workflow that fits to your unique requirements. Wacom Cintiq Pro 16, 24 and 32 are each available as bundles with Loupedeck CT or Loupedeck Live. Get yours today.
Get your Wacom and Loupedeck bundle today
Wacom Cintiq Pro + Loupedeck CT
$2,512.77

Regular Price

$2,748.95
Wacom Intuos Pro + Loupedeck CT
$819.95

Regular Price

$1,048.95

$709.95

Regular Price

$928.95

$575.95

Regular Price

$798.95
Wacom Cintiq Pro and Loupedeck Live
$2,385.95

Regular Price

$2,468.95
Wacom Cintiq and Loupedeck Live
$1,485.95

Regular Price

$1,568.95

$972.40

Regular Price

$1,068.95
Wacom Intuos Pro and Loupedeck Live
$685.95

Regular Price

$768.95

$565.95

Regular Price

$648.95

$425.95

Regular Price

$518.95