Wacom One + Lamy AL-star pen bundle
Ready... Set... Create
This bundle contains all you need to bring your creations to life right away. Wacom One's 13.3" screen offers a paper-like canvas that feels completely natural when drawing or writing. The included creative software and ability to connect to Android devices open up even more possibilities. And thanks to Wacom's EMR technology, the LAMY AL-star black EMR pen never needs charging or batteries, so it's ready to go whenever you need it. The pen's ergonomics mean that it flows at the same pace as your ideas, never slowing you down.
Wacom One + Staedtler Noris digital Jumbo EMR pen
STAEDTLER Noris digital meets Wacom One
Feels like pen & paper, works like magic.
Whether you're just starting in digital creation, want to add a twist to your visual thinking or looking to improve your digital expression, Wacom One delivers a great experience. The display offers just the right amount of friction for an authentic pen-on-paper feel. And with this bundle, you can take the familiar feel even further. The ergonomics of the STAEDTLER Noris digital jumbo pencil replicate the feel of a high quality graphite pencil. So even though you're working in digital, it feels like you're working with pen and paper. Combine with STAEDTLER's Noris digital jumbo and open a new world of possibilities.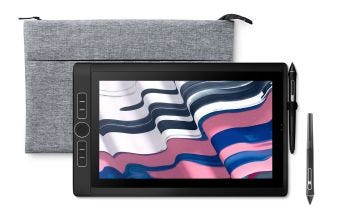 Wacom MobileStudio Pro 13 Bundle
Create without boundaries with Wacom MobileStudio Pro
Whatever, wherever... you can create the most stunning works of art with Wacom MobileStudio Pro. Enjoy true independence with a whole studio of creative tools in your hands - an awesome display, a precise and powerful pen and gain ultimate versatility and flexibility to do anything anywhere you want.